We strive for excellence in everything we do, and we're delighted to have won national and international awards. This independent recognition the work we do for New Zealand is reaching the high standards we aim for.
This page details some of the recent awards with which we have been recognised, alongside our partners, by a number of industry and professional bodies for innovation and best practice.
Public Services Commission Spirit of Service Awards 2020
The collective efforts of Waka Kotahi, KiwiRail, the North Canterbury Transport Infrastructure Recovery (NCTIR) alliance and Te Rūnanga o Kaikōura to restore and improve Kaikōura's transport networks have been recognised at the Public Services Commission Spirit of Service Awards.
The project, which has been underway since the devastating November 2016 earthquake, won the Outstanding Public Sector Leadership in Governance Award which recognises a governance group delivering outstanding results for New Zealand. The project also went on to win the overall Prime Minister's Award, which was selected by the judging panel from the winners of each of the four organisational award categories.
This project has been a collaborative effort between many organisations and people and is recognition of the work to not only recover the transport networks but leave a lasting legacy for the community.
Institute of Public Works Engineering Australasia (IPWEA) NZ Excellence Awards 2020
Four of our projects were given awards at the event, which celebrates and promotes excellence in public works engineering.
Waka Kotahi National Resilience Programme Business Case
Winner – Excellence in Strategic Planning
Tonkin & Taylor, Tregaskis Brown and Waka Kotahi
The project identified and prioritised physical risks to New Zealand's highway network in relation to natural hazards, climate change and key systemic issues.
National Resilience Programme Business Case
State Highway 6 Waiho Bailey Bridge Flood Recovery
Winner – Best Public Works Project under $5 million
Waka Kotahi, WSP, and the main contractors, Downer and Fulton Hogan
The success of this recovery project was highlighted by the opening of the new 172-metre-long bridge less than 18 days after the old bridge was washed away.
SH6 West Coast and Waiho River bridge storm repairs
State Highway 1 Hamilton section of the Waikato Expressway project
Highly Commended – Morphum Excellence in Environment and Sustainability Award (pictured above)
Waka Kotahi, Fulton Hogan, HEB Construction, WSP, Jacobs, Gaia Engineers and Bartley Consultants
The project reflects an integrated design approach where engineering and environmental considerations were developed and enhanced in response to site-specific challenges and community expectations.
Hamilton section of the Waikato Expressway
The Lyttelton Tunnel Deluge System
Highly Commended – Excellence in Maximising Asset Performance
Waka Kotahi, WSP, Aurecon and McConnell Dowell
Lyttelton Tunnel's new deluge system and ventilation system improvements align the tunnel with standards developed following the Mont Blanc event.
Association of Consulting and Engineering (ACE) Awards 2020
The ACE Awards recognise engineering projects that create vibrant and sustainable outcomes for New Zealand communities. Waka Kotahi won three awards.
State Highway 1 Huntly section of Waikato Expressway project
Our Waikato Expressway Huntly Section project was awarded Silver. Jacobs and WSP worked for Fulton Hogan in a design-construct team to build the expressway for us.
The project was built on a collaborative approach to environmental management plan preparation, extensive ecological enhancement and restoration and outstanding visual and landscape outcomes.
Huntly Section of Waikato Expressway
Streetlight replacements on the Auckland Harbour Bridge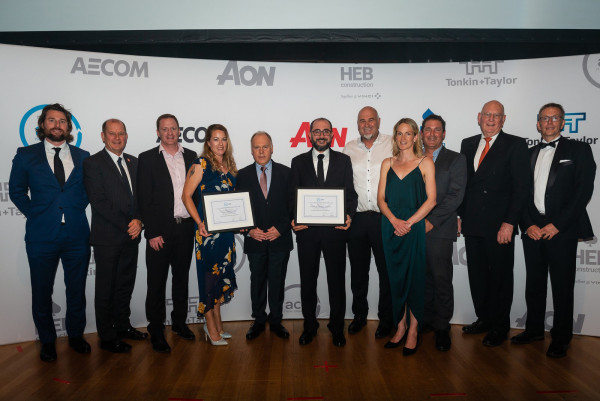 Our Auckland System Management (ASM) Alliance team was awarded Merit for their work with streetlight replacements on the Auckland Harbour Bridge.
Last year ASM worked with SRG Global NZ, WSP and Beca to replace more than 140 outdated high-pressure sodium luminaires with low energy LED luminaires and install 18 new, New Zealand-built light poles to replace those reaching the end of their life.
The result was an innovative, efficient, durable solution delivering a 52 per cent power saving, reduced maintenance costs and environmental benefits.
Auckland Harbour Bridge to get a road lighting upgrade
State Highway 10 Taipā Bridge Replacement project
We were also awarded Merit for our successful collaboration on the State Highway 10 Taipā Bridge Replacement Project with Fulton Hogan and Aurecon.
Early engagement with hapū to understand their concerns around safety, environment and food gathering from the pipi beds was critical to the success of this project - we worked collaboratively to resolve these concerns.
The result is a beautiful bridge which reflects a giant waka hourua (traditional double-hulled sailing canoe) and pays tribute to the great Polynesian explorer Kupe, attracting tourists to boost the local economy.
State Highway 10 Taipā Bridge Replacement project