TruckR is easy to use. Just download the app from Google Play store and get started. You can plan ahead before you start driving, or pull over and check information during your journey.
Alert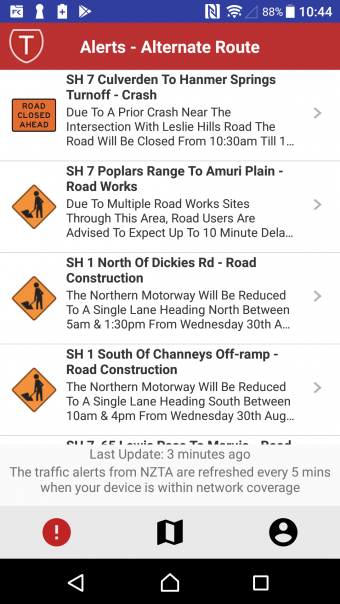 The first page is traffic alerts to give you a heads up on what is ahead. The alerts cover everything from road closures and crashes to road works which could cause delays. This information is updated every five minutes.
Map

The map icon gives you an overview of the alternate route. You can tap on icons on the map to get more information on areas that interest you. You can also personalise this part by hitting the icon on the top right hand side of the app. Simply check the things you want to find, from toilet stops to trailer swaps, and let the app filter out the rest. Focussed on finding a feed? Uncheck everything apart from food to find cafes and restaurants with space to park your truck.
Account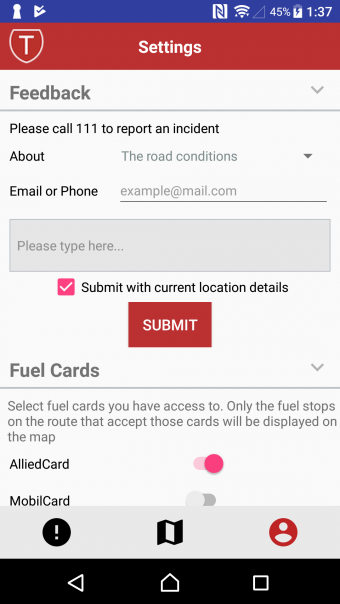 The settings icon lets you personalise TruckR even more. You can choose the type of fuel card your company uses and only the fuel stops that accept these cards will be shown on the map. You can also send the Transport Agency feedback on road conditions, a specific stop on your journey, and the TruckR app. Please get in touch via the 'feedback' section on TruckR if you have ideas to improve the app.
Information
TruckR offers specific safety and journey information about the alternate route, including:
Food stops, public toilets and truck stops (based on parking a heavy vehicle)
Fuel stops (based on the card drivers use)
Trailer swap areas
Accommodation
Truck repairs
Single lane bridges
Passing lanes
Stopping bays
Mobile coverage
Alternative route road alerts
Road Closures
Commercial Vehicle Safety Team (CVST)